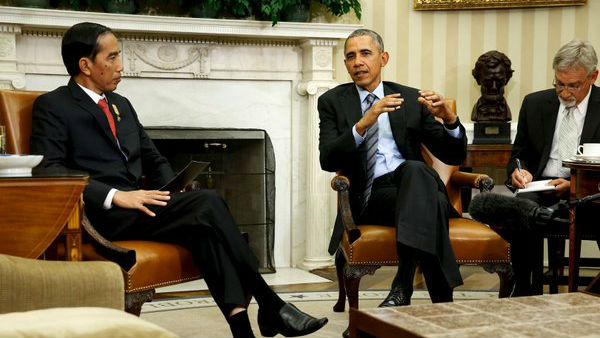 Indonesian President Joko Widodo met with U.S. Presiden Barack Obama on Monday and discussed the nations' "tremendous possibilities for economic and development cooperation." On the sidelines of the meeting, capital and infrastructure giant GE announced it will invest up to $1 billion in the power, oil and gas and healthcare sectors to support Indonesia's planned economic development and trade growth.
Widodo has now been in office for a year, and his economic performance has disappointed some. He won office on nine platforms, all based on improving the livelihoods of everyday Indonesian people. However, over the past year, the economy has undergone a downturn and the rupiah continues to fall.
GE Steps In
Widodo had set an ambitious goal to increase power generation capacity by 35GW by 2019. To facilitate achieving this goal, GE will bring its latest technology and will partner with local companies to expand their manufacturing and assembly capabilities.
In the oil and gas space, GE's investments will include expanding its current subsea equipment manufacturing facility to include other GE product lines, and partnering with local companies to expand manufacturing and assembly locally.
GE has operations in Jakarta, manufacturing facilities in Yogyakarta and Batam, and a turbine service facility in Bandung. More than 90 percent of the equipment manufactured in its oil and gas facility, such as subsea wellheads, surface wellheads and christmas trees, is exported for use in global projects.
Political Cooperation
Widodo and Obama highlighted the importance of the maritime area to their respective countries when they met. The two presidents pledged to deepen their cooperation on maritime affairs, as described in the new "Memorandum of Understanding on Maritime Cooperation," which extends to a full range of fields, including: maritime security, maritime economy, marine resources and fisheries conservation and management, maritime safety and navigation, marine science and technology.
Both presidents underlined the importance of improving maritime infrastructure to enhance connectivity and enable freer flow of commerce in the region and between the two countries. Therefore, they committed to continue working together to promote cooperation and investment in infrastructure.
Both leaders discussed Indonesia's recent reforms and affirmed that steps to enhance the ease of doing business in Indonesia would create the conditions for a further expansion in two-way trade and investment. The two presidents welcomed the recent commercial agreements between U.S.-based firms and Indonesian partners, amounting to over $20 billion, as reflective of the deepening bilateral economic relationship.
TPP
Widodo has indicated his country could join the Trans-Pacific Partnership trade agreement. Before meeting Obama, he said that his government was working to remove protectionist trade regulations that had deterred foreign businesses.
"I want to say that Indonesia is open for investment," he said "Indonesia is open for investors."
Indonesia is South-East Asia's largest economy, worth about $1 trillion, and its inclusion in the Trans-Pacific Partnership would be a hit to China's influence in the region.
By MarEx