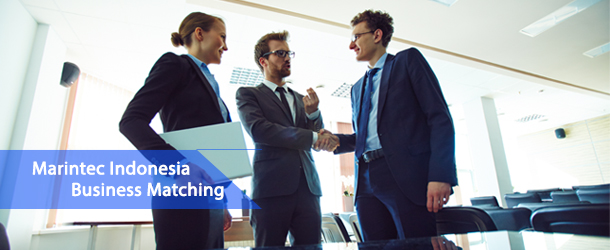 As a registered attendee at Marintec Indonesia 2019, you will have free access to the official "Business Matching" service. This is a powerful, effective intuitive, personalized, online and offline business matching tool which allows you to search for and arrange meetings with the exhibitors and visitors
prior to the show. Our concierge services will support you via emails and calls in every step of the process.
How you will benefit?
Screen and find profiles of
people tailored to your needs with an easy filter system;
Pre-schedule appointments with
our easy and fast request / accepts system;
Get free SMS — Reminders;
Meet onsite: Broaden your
personal network and chance your business!
How does this platform work?
Register for Marintec Indonesia by CLICKING HERE
Receive an invitation email with a personalised link before the event
Review the profiles and schedule meetings
Yes, it is that simple! Do it now!
As a registered attendee to the event, you will be emailed an activation code, follow the link, activate your account, create your own password and get started!