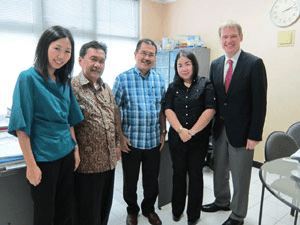 Marintec Indonesia Secretariat team met with Ir. Tjahjono Roesdianto, Chairman of the Indonesia Shipbuilding and Offshore Industries Association (IPERINDO), and Mr. Julius Tangketasik, Secretary General of IPERINDO, at their office in Jakarta on 20th January. Christopher Eve, Senior Vice President of UBM Asia Ltd, the organisers of Marintec Indonesia, updated Ir. Roesdianto on the progress of the exhibition, conference and technical workshops.
The Chairman of IPERINDO expressed his support of Marintec Indonesia and gave his suggestions for further enhancing the event. He said that IPERINDO saw Marintec Indonesia as an ideal platform to promote the development of the Indonesian marine industry, and that he would encourage all of his members to participate in the exhibition and to attend the conference.
Membership of IPERINDO spans the shipbuilding and repairing industry, off-shore structures fabrication, marine engineering, marine surveying, inspection and consultancy and such other marine-related services, consisting of state-owned enterprises, cooperatives and private companies.