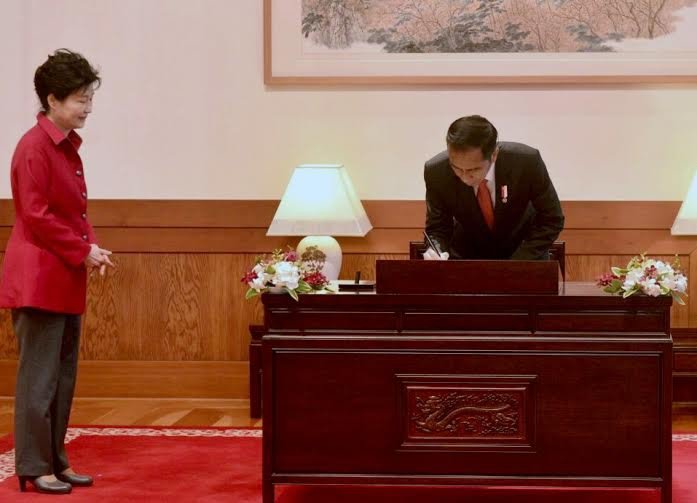 Indonesia has invited South Korea to help accelerate industrialization in Southeast Asia's largest economy.
In a bilateral meeting with South Korean President Park Geun-hye during a working visit to Seoul on Monday, President Joko "Jokowi" Widodo lauded ongoing South Korean investment despite an apparent decline in trade between the two countries.
In 2015, the value of Korean investment in Indonesia stood at US$1.21 billion, compared to $1.12 billion in 2014.
"Banking on the prospects of welcoming South Korean investment to the industrial sector, Indonesia intends to make South Korea a partner to accelerate industrialization in Indonesia," President Jokowi said.
Steel was among the focus sectors for Indonesia, Jokowi said, adding that the country expected to reduce its steel imports by developing its own domestic steel industry.
Hence, he welcomed steel firm POSCO's decision to expand its plant in Indonesia, working together with Krakatau Steel, in order to produce 10 million tons of steel.
"I believe POSCO's expansion plan will run smoothly and encourage the establishment of an integrated steel industry from upstream to downstream," Jokowi said.
In the creative industry, he invited South Korea to cooperate in capacity building, technical and technological assistance, cobranding and coproduction programs in a bid to realize his vision of making Indonesia the biggest digital economy in the region with a projected e-commerce transaction value of $130 billion through the creation of 1,000 technology-based entrepreneurs by 2020.
During the working visit, the two countries also signed an agreement on maritime sectors, especially illegal fishing and fisheries processing.
Indonesia and Korea saw a decline in trade value to $16.7 billion last year, down from $ 22.47 billion in 2014.
"We should maintain our efforts to increase trade [with South Korea]," said Jokowi, adding that efforts included reducing tariff and non-tariff barriers.
This year, the Indonesia-South Korea relationship celebrates 10 years since the signing of the Joint Strategic Partnership to promote Friendship and Cooperation in the 21st Century on Dec. 4, 2006.
President Jokowi's visit to South Korea aims to show Indonesia's commitment to improving bilateral relations.
During the meeting, President Park expressed her intention to increase investment in infrastructure, including in the maritime sector.